Cardiac myxoma as a potential trigger of takotsubo cardiomyopathy: A brief review on mechanistic and clinical perspectives
Abstract
In clinical practice, cardiac myxomas constitute the majority of benign cardiac neoplasms, and might potentially present with a variety of embolic, obstructive as well as constitutional symptoms. On the other hand, these neoplasms might be potentially associated with the evolution of takotsubo cardiomyopathy (TTC) that is universally considered as a transient form of acute myocardial dysfunction. Accordingly, the present paper primarily aims to focus on potential mechanisms and associated clinical implications of TTC evolution in the setting of cardiac myxomas.
Downloads
Download data is not yet available.
References
Konishi T, Funayama N, Yamamoto T, et al. Cerebral embolization from left atrial myxoma causing takotsubo cardiomyopathy complicated with congestive heart failure. Cardiol J 2020;27:439-40.
Yalta K, Yilmaztepe M, Zorkun C. Left ventricular dysfunction in the setting of takotsubo cardiomyopathy: A review of clinical patterns and practical ımplications. Card Fail Rev 2018;4:14-20.
Seo SM, Park SK, Kim SJ, et al. Multiregional embolizations and Takotsubo cardiomyopathy associated with left atrial myxoma. Ann Thorac Cardiovasc Surg 2012;18:577-81.
Thyagarajan B, Kumar MP, Patel S, et al. Extracardiac manifestations of atrial myxomas. J Saudi Heart Assoc 2017;29:37-43.
Yuan SM. Infected cardiac myxoma: an updated review. Braz J Cardiovasc Surg 2015;30:571-8.
Stefanou MI, Rath D, Stadler V, et al. Cardiac myxoma and cerebrovascular events: A retrospective cohort study. Front Neurol 2018;9:823.
Łebek-Szatańska AM, Łebek ZL, Dąbrowski MJ, et al. A large tumour of the left atrium - A 10-year follow-up. Hellenic J Cardiol 2016;57:441-4.
Tahsili-Fahadan P, Geocadin RG. Heart-brain axis: Effects of neurologic ınjury on cardiovascular function. Circ Res 2017;120:559-72.
Al-Qudah ZA, Yacoub HA, Souayah N. Disorders of the autonomic nervous system after hemispheric cerebrovascular disorders: An update. J Vasc Interv Neuro. 2015;8:43-52.
Yavuz T, Peker O, Ocal A, et al. Left atrial myxoma associated with acute myocardial infarction. Int J Cardiovasc Imaging 2005;21:235-8.
Baldetti L, Pagnesi M, Gallone G, et al. Thrombotic complications and cerebrovascular events in takotsubo syndrome: A systematic review and meta-analysis. Can J Cardiol 2019;35:230.e9.
Fitzgibbons TP, Edwards YJK, Shaw P, et al. Activation of ınflammatory and pro-thrombotic pathways in acute stress cardiomyopathy. Front Cardiovasc Med 2017;4:49.
Yalta K, Yalta T. Physically triggered takotsubo cardiomyopathy has a worse prognosis: Potential roles of systemic inflammation and coronary slow flow phenomenon. Int J Cardiol 2017;242:31-32.
Yalta K, Yalta T. Cancer and takotsubo cardiomyopathy: More questions than answers. Int J Cardiol 2017;242:13.
Burgdorf C, Kurowski V, Bonnemeier H, et al. Long-term prognosis of the transient left ventricular dysfunction syndrome (Tako-Tsubo cardiomyopathy): focus on malignancies. Eur J Heart Fail 2008;10:1015-9.
Pongratz G, Straub RH. The sympathetic nervous response in inflammation. Arthritis Res Ther 2014;16:504.
Yalta K, Taylan G, Yalta T, et al. Takotsubo cardiomyopathy in the setting of multiple sclerosis: a multifaceted phenomenon with important implications. Monaldi Arch Chest Dis 2020;90:1420.
Yalta K, Yetkin E, Yalta T. Takotsubo cardiomyopathy: an obscure cause of emerging cardiovascular manifestations in the setting of Bickerstaff's brainstem encephalitis. Neurol Sci 2021;42:1181-3.
Yalta K, Yetkin E, Yalta T. Recurrent takotsubo cardiomyopathy: Further insights into morphological patterns. Cardiovasc Pathol 2020;48:107225.
Yalta K, Yalta T. Takotsubo cardiomyopathy and its implications in the setting of acute manic attack. Proc (Bayl Univ Med Cent) 2020;33:473-4.
Awad HH, McNeal AR, Goyal H. Reverse Takotsubo cardiomyopathy: a comprehensive review. Ann Transl Med 2018;6:460.
Banerjee S. Inverted Takotsubo cardiomyopathy: A rare entity often missed! Indian Heart J 2016;68:S8-9.
Yalta K, Yetkin E, Taylan G. Atypical variants of takotsubo cardiomyopathy: mechanistic and clinical implications. J Geriatr Cardiol 2020;17:447-8.
Zhang S, Zhang Q, Yu H, et al. Neuroimaging characteristics and long-term prognosis of myxoma-related intracranial diseases. Neuroradiology 2020;62:307-17.
Aguilar C, Carbajal T., Beltran BE, et al. Cerebral embolization associated with parenchymal seeding of the left atrial myxoma: Potential role of interleukin‐6 and matrix metalloproteinases. Neuropathology 2021;41:49-57.
Brinjikji W, Morris JM, Brown RD, et al. Neuroimaging findings in cardiac myxoma patients: A single-center case series of 47 patients. Cerebrovasc Dis 2015;40:35-44.
Wada A, Kanda T, Hayashi R, et al. Cardiac myxoma metastasized to the brain: potential role of endogenous interleukin-6. Cardiology 1993;83:208-11.
Kawamura T, Muratani H, Inamura T, et al. Serial MRI of cerebral infarcts before and after removal of an atrial myxoma. Neuroradiology 1999;41:573-5.
Penn DL, Lanpher AB, Klein JM, et al. Multimodal treatment approach in a patient with multiple intracranial myxomatous aneurysms. J Neurosurg Pediatr 2018;21:315-21.
Branscheidt M, Frontzek K, Bozinov O, et al. Etoposide/carboplatin chemotherapy for the treatment of metastatic myxomatous cerebral aneurysms. J Neurol 2014;261:828-30.
Yalta K, Yetkin E, Yalta T. Systemic inflammation in patients with Takotsubo syndrome: a review of mechanistic and clinical implications. Monaldi Arch Chest Dis 2021;91:1718.
Al-Kuraishy HM, Al-Gareeb AI, Naji MT, et al. Role of vinpocetine in ischemic stroke and poststroke outcomes: A critical review. Brain Circ 2020;6:1-10.
Hussien NR, Al-Naimi MS, Rasheed HA, et al. Sulfonylurea and neuroprotection: The bright side of the moon. J Adv Pharm Technol Res 2018;9:120-3.
Al-Kuraishy HM, Al-Gareeb AI. Central beneficial effects of trimetazidine on psychomotor performance in normal healthy volunteers. Adv Biomed Res 2017;6:69.
van der Hoeven NW, van Loon RB, Kamp O. 'A blessing in disguise': myxoma cordis and Tako Tsubo cardiomyopathy. Eur Heart J 2015;36:914.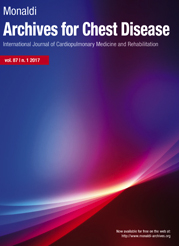 Downloads
Info
Section
Cardiology - Reviews
Keywords:
cardiac myxoma, Takotsubo cardiomyopathy, mechanistic implications, clinical implications
Statistics
Abstract views:

66



PDF:

31
How to Cite
Yalta, Kenan, Ugur Ozkan, Tülin Yalta, and Ertan Yetkin. 2021. "Cardiac Myxoma As a Potential Trigger of Takotsubo Cardiomyopathy: A Brief Review on Mechanistic and Clinical Perspectives". Monaldi Archives for Chest Disease, September. https://doi.org/10.4081/monaldi.2021.1961.
License
Copyright (c) 2021 The Author(s)
This work is licensed under a Creative Commons Attribution-NonCommercial 4.0 International License.
PAGEPress has chosen to apply the Creative Commons Attribution NonCommercial 4.0 International License (CC BY-NC 4.0) to all manuscripts to be published.