Paradoxical role of oxygen in the treatment of patients with COVID-19
Abstract
Dear Editor,
Coronavirus disease-2019 (COVID-19) caused by Severe Acute Respiratory Syndrome Coronavirus-2 (SARS-CoV-2) was declared a pandemic by WHO on 11 March 2020 and has adversely affected human society and disrupted global health...
Downloads
Download data is not yet available.
References
Mahalmani VM, Mahendru D, Semwal A, et al. COVID-19 pandemic: A review based on current evidence. Indian J Pharmacol 2020;52:117-129.
Li H, Liu S-M, Yu X-H, et al. Coronavirus disease 2019 (COVID-19): current status and future perspectives. Int J Antimicrob Agents 2020;55:105951.
Hartenian E, Nandakumar D, Lari A, et al. The molecular virology of coronaviruses. J Biol Chem 2020 Sep 11;295:12910–34.
Hanidziar D, Robson SC. Hyperoxia and modulation of pulmonary vascular and immune responses in COVID-19. Am J Physiol Lung Cell Mol Physiol 2021;320:L12-6.
Matthay MA, Zemans RL. The acute respiratory distress syndrome: pathogenesis and treatment. Annu Rev Pathol 2011;6:147-63.
Ohshimo S. Oxygen administration for patients with ARDS. J Intensive Care 2021;9:17.
Mach WJ, Thimmesch AR, Pierce JT, Pierce JD. Consequences of hyperoxia and the toxicity of oxygen in the lung. Nurs Res Pract 2011;2011:260482.
Pagano A, Barazzone-Argiroffo C. Alveolar cell death in hyperoxia-induced lung injury. Ann N Y Acad Sci 2003;1010:405-16.
Budinger GRS, Mutlu GM. Balancing the risks and benefits of oxygen therapy in critically III adults. Chest 2013;143:1151–62.
Myti D, Gunjak M, Casado F, et al. Elevated FiO2 increases SARS-CoV-2 co-receptor expression in respiratory tract epithelium. Am J Physiol Lung Cell Mol Physiol 2020;319:L670–4.
Kim V, Benditt JO, Wise RA, Sharafkhaneh A. Oxygen therapy in chronic obstructive pulmonary disease. Proc Am Thorac Soc 2008;5:513–8.
Ergan B, Nava S. Long-term oxygen therapy in COPD patients who do not meet the actual recommendations. COPD 2017;14:351–66.
Hedenstierna G, Rothen HU. Atelectasis formation during anesthesia: causes and measures to prevent it. J Clin Monit Comput 2000;16:329-35.
Saugstad OD. Oxygenation of the immature infant: A commentary and recommendations for oxygen saturation targets and alarm limits. Neonatology 2018;114:69–75.
La Fauci V, Costa GB, Facciolà A, et al. Humidifiers for oxygen therapy: what risk for reusable and disposable devices? J Prev Med Hyg 2017;58:E161–5.
Koch A, Kähler W, Klapa S, et al. The conundrum of using hyperoxia in COVID-19 treatment strategies: may intermittent therapeutic hyperoxia play a helpful role in the expression of the surface receptors ACE2 and Furin in lung tissue via triggering of HIF-1α? Intensive Care Med Exp 2020;8:53.
Crimi C, Noto A, Cortegiani A, et al. Noninvasive respiratory support in acute hypoxemic respiratory failure associated with COVID-19 and other viral infections. Minerva Anestesiol 2020;86:1190-204.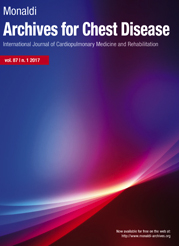 Downloads
Info
Section
COVID-19 - Collection of articles on the Coronavirus outbreak
Supporting Agencies
Not applicable
Keywords:
COVID-19, Lung Injury, Hyperoxia, Oxygen therapy
Statistics
Abstract views:

192



PDF:

55
How to Cite
Maharana , Biswajit, Pallab Chakraborty, Sudhan Rackimuthu, Rusab Baig, and Shreeji Kadakia. 2021. "Paradoxical Role of Oxygen in the Treatment of Patients With COVID-19". Monaldi Archives for Chest Disease, September. https://doi.org/10.4081/monaldi.2021.1916.
License
Copyright (c) 2021 The Author(s)
This work is licensed under a Creative Commons Attribution-NonCommercial 4.0 International License.
PAGEPress has chosen to apply the Creative Commons Attribution NonCommercial 4.0 International License (CC BY-NC 4.0) to all manuscripts to be published.