Acute heart failure due to COVID-19 related myocardial injury and de novo hypertensive cardiomyopathy: a challenging diagnosis
Abstract
We report a COVID-19 case with acute heart and kidney failure in a healthy young male. Echocardiography showed severe systolic and diastolic left ventricle dysfunction, with diffuse myocardial thickening. Cardiac MRI showed aspects of focal myocarditis, and hypertensive cardiomyopathy. Renal biopsy demonstrated limited acute tubular injury, and hypertensive kidney disease. Coronary angiography excluded critical stenoses. Unlike what we initially suspected, myocardial inflammation had a limited extent in our patient; severe hypertension causing cardiomyopathy and multi-organ damage, not diagnosed before, was primarily responsible for severe illness. Correct diagnosis and guidelines-directed treatment allowed a favorable course.
Downloads
Download data is not yet available.
References
Zhou F, Yu T, Du R, et al. Clinical Course and risk factors for mortality of adult inpatients with COVID-19 in Wuhan, China: A retrospective cohort study. Lancet 2020; 395:1054-62.
Xiong T-Y, Redwood S, Prendergast B, Chen M. Coronaviruses and the cardiovascular system: acute and long-term implications. Eur Heart J 2020;41:1798-800.
Tomasoni D, Inciardi RM, Lombardi CM, et al. Impact of heart failure on the clinical course and outcomes of patients hospitalized for COVID-19. Results of the Cardio-COVID-Italy multicentre study. Eur J Heart Fail 2020;22:2238-47.
Li J-W, Han T-W, Woodward M, et al. The impact of 2019 novel coronavirus on heart injury: A systemic review and meta-analysis. Prog Cardiovasc Dis 2020;63:518-24.
Lombardi CM, Carubelli V, Iorio A, et al. Association of troponin levels with mortality in Italian patients hospitalized with Coronavirus Disease 2019: Results of a multicenter study. JAMA Cardiol 2020;5:1274-80.
Inciardi RM, Lupi L, Zaccone G, et al. Cardiac involvement in a patient with Coronavirus Disease 2019 (COVID-19). JAMA Cardiol 2020;5:819-24.
Sala S, Peretto G, Gramegna M, et al. Acute myocarditis presenting as a reverse Tako-Tsubo syndrome in a patient with SARS-CoV-2 respiratory infection. Eur Heart J 2020 14;41:1861-2.
Kim IC, Kim JY, Kim HA, Han S. COVID-19-related myocarditis in a 21-year-old female patient. Eur Heart 2020;41:1859.
Cheng Y, Luo R, Wang K, et al. Kidney disease is associated with in-hospital death of patients with COVID-19. Kidney Int 2020;97:829–38.
Ronco C, Reis T, Husain-Syed F. Management of acute kidney injury in patients with COVID-19. Lancet Respir Med 2020;8:738-42.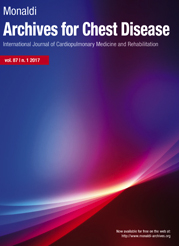 Downloads
Info
Section
COVID-19 - Collection of articles on the Coronavirus outbreak
Keywords:
COVID-19, myocarditis, cardiac MRI, hypertensive cardiomyopathy, echocardiography
Statistics
Abstract views:

170



PDF:

85

Supplementary:

4
How to Cite
Pernigo, Matteo, Marco Triggiani, Emanuele Gavazzi, Ilaria Papa, Alberto Vaccari, Simona Fisogni, Ester Costantino, and Gian Franco Pasini. 2021. "Acute Heart Failure Due to COVID-19 Related Myocardial Injury and De Novo Hypertensive Cardiomyopathy: A Challenging Diagnosis". Monaldi Archives for Chest Disease, September. https://doi.org/10.4081/monaldi.2021.1778.
License
Copyright (c) 2021 The Author(s)
This work is licensed under a Creative Commons Attribution-NonCommercial 4.0 International License.
PAGEPress has chosen to apply the Creative Commons Attribution NonCommercial 4.0 International License (CC BY-NC 4.0) to all manuscripts to be published.