An unusual cause of 'tree-in-bud' appearance in CT-chest during COVID-19 pandemic
Abstract
'Tree-in-bud' (TIB) appearance in computed tomography (CT) chest is most commonly a manifestation of infection. We here describe an unusual cause of TIB during the COVID-19 pandemic. A young male patient who had a history of fever, cough, and respiratory distress presented in the emergency department. As these symptoms matched with coronavirus infection, the COVID-19 test was done, which was found negative. He was then moved to the intensive care unit where he developed severe acute respiratory distress syndrome and was put on mechanical ventilation. Further workup did not reveal any source of infection, as all his cultures were negative, but his CT chest showed a tree-in-bud appearance. After obtaining a detailed history from his friends, the patient was found a chronic abuser of inhaled cocaine and treated with intravenous steroids. Subsequently, he was weaned from the ventilator and discharged from the intensive care unit after becoming asymptomatic.
Downloads
Download data is not yet available.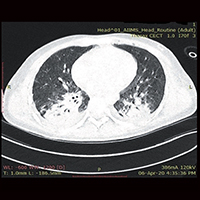 Downloads
Info
Section
COVID-19 - Collection of articles on the Coronavirus outbreak
Keywords:
Computed tomography, tree-in-bud, cocaine, unsual
Statistics
Abstract views:

835



PDF:

375
How to Cite
Sharma, Ankur, Balakrishnan Narayanan, Nilay Pal, and Sunny Taye. 2020. "An Unusual Cause of 'tree-in-bud' Appearance in CT-Chest During COVID-19 Pandemic". Monaldi Archives for Chest Disease 90 (3). https://doi.org/10.4081/monaldi.2020.1466.