Bedside wireless lung ultrasound for the evaluation of COVID-19 lung injury in senior nursing home residents
Abstract
Lung Ultrasound (LUS) is regarded to be potentially useful to diagnose lung injury in older adults living in nursing homes with suspected COVID-19 pneumonia. We aimed at evaluating presence lung injury among senior nursing home residents by LUS performed with portable wireless scanner echography. The study population consisted of 150 residents with a mean age of 88 years (85% female) residing in 12 nursing homes in Northern Italy. Subjects had to have a history of recent onset of symptoms compatible with COVID-19 pneumonia or have been exposed to the contagion of patients carrying the disease. COVID-19 testing was performed with SARS-CoV-2 nasal-pharyngeal (NP) swabs. Positive subjects to LUS scanning were considered those with non-coascelent B-lines in >3 zones, coalescent B-lines in >3 zones and with iperdensed patchy non-consolidated lungs. Sixty-three percent had positive NP testing and 65% had LUS signs of pulmonary injury. LUS had a sensitivity of 79% in predicting positive NP testing. Sixteen percent of residents tested negative for SARSCoV-2 carried the signs of COVID-19 lung injury at LUS. There were 92 patients (61%) with current or recent symptoms.Positivity to LUS scanning was reported in 73% of residents with symptoms, while it was 53% in those without (P=0.016). A positive NP testing was observed in 66% of residents with symptoms and in 57% of those without (P=0.27). We conclude that assessment of LUS by portable wireless scanner echography can be profitability utilized to diagnose lung injury among senior nursing home residents with or without symptoms compatible with COVID-19 pneumonia.
Downloads
Download data is not yet available.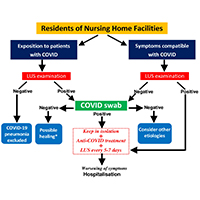 Downloads
Info
Section
COVID-19 - Collection of articles on the Coronavirus outbreak
Keywords:
COVID-19 pneumonia, nasal-pharyngeal swabs, lung ultrasound, elderly
Statistics
Abstract views:

561



PDF:

384
How to Cite
Dini, Frank Lloyd, Carlo Bergamini, Aldo Allegrini, Massimo Scopelliti, Gianmarco Secco, Mario Miccoli, Stefano Boni, Raffaella Brigada, and Stefano Perlini. 2020. "Bedside Wireless Lung Ultrasound for the Evaluation of COVID-19 Lung Injury in Senior Nursing Home Residents". Monaldi Archives for Chest Disease 90 (3). https://doi.org/10.4081/monaldi.2020.1446.