Quantifying and reporting cardiac findings in imaging of COVID-19 patients
Abstract
Severe acute respiratory syndrome coronavirus 2 (SARS-CoV-2) infection continues to be a public health emergency and a pandemic of international concern. As of April 31st,  the reported cases of COVID-19 are three million in 186 countries. Reported case fatality has crossed 200 thousand among which more than fifty thousand has been in the USA. Most patients present with symptoms of fever, cough, and shortness of breath following exposure to other COVID-19 patients. Respiratory manifestations predominate in patients with mild, moderate, severe illness. Imaging of patients with COVID-19 consistently reports various pulmonary parenchymal involvement. In this article we wanted to reinforce and review the various reported imaging patterns of cardiac and mediastinal involvement in COVID-19 patients. Among patients with COVID 19 who underwent various imaging of chest various cardiac findings including pericardial effusion, myocarditis, cardiomegaly has been reported. Most of these findings have been consistently reported in patients with significant acute myocardial injury, and fulminant myocarditis. Acute biventricular dysfunction has also been reported with subsequent improvement of the same following clinical improvement. Details of cardiac MRI is rather limited. In a patient with clinical presentation of acute myocarditis, biventricular myocardial interstitial edema, diffuse biventricular hypokinesia, increased ventricular wall thickness, and severe LV dysfunction has been reported. Among patients with significant clinical improvement in LV structure and function has also been documented. With increasing number of clinical cases, future imaging studies will be instrumental in identifying the various cardiac manifestations, and their relation to clinical outcome.
Downloads
Download data is not yet available.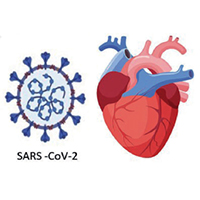 Downloads
Info
Section
COVID-19 - Collection of articles on the Coronavirus outbreak
Keywords:
COVID-19, Cardiac, Imaging
Statistics
Abstract views:

678



PDF:

500
How to Cite
Mishra, Ajay Kumar, Amos Lal, Kamal Kant Sahu, Mark Kranis, and Jennifer Sargent. 2020. "Quantifying and Reporting Cardiac Findings in Imaging of COVID-19 Patients". Monaldi Archives for Chest Disease 90 (4). https://doi.org/10.4081/monaldi.2020.1394.