Severity of COVID-19: The importance of being hypertensive
Abstract
The novel respiratory Syndrome Coronavirus-2 (SARS-CoV-2) caused a cluster of pneumonia cases in China at the end of 2019. After few months, it led to a pandemic that has spread throughout most countries of the world (https://coronavirus.jhu.edu/map.html).  
Downloads
Download data is not yet available.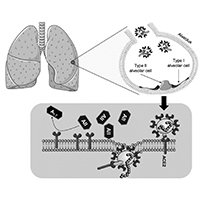 Info
Section
COVID-19 - Collection of articles on the Coronavirus outbreak
Keywords:
COVID-19, SARS-CoV-2, hypertension, prognosis, angiotensin, ACE2
Statistics
Abstract views:

743



PDF:

468
How to Cite
Angeli, F., Masnaghetti, S., Visca, D., Rossoni, A., Taddeo, S., Biagini, F., & Verdecchia, P. (2020). Severity of COVID-19: The importance of being hypertensive. Monaldi Archives for Chest Disease, 90(2). https://doi.org/10.4081/monaldi.2020.1372
Copyright (c) 2020 The Author(s)
This work is licensed under a Creative Commons Attribution-NonCommercial 4.0 International License.