Intubation and mechanical ventilation of patients with COVID-19: what should we tell them?
Abstract
Severe COVID-19 illness is characterised by the development of Acute Respiratory Distress Syndrome (ARDS), for which the mainstay of treatment is represented by mechanical ventilation. Mortality associated with ARDS due to other causes is in the range of 40-60%, but currently available data are not yet sufficient to draw safe conclusions on the prognosis of COVID-19 patients who require mechanical ventilation. Based on data from cohorts of the related coronavirus-associated illnesses, that is to say Severe Acute Respiratory Syndrome (SARS) and Middle East Respiratory Syndrome (MERS), prognosis would seem to be worse than ARDS due to other causes such as trauma and other infections. Discussion of prognosis is central to obtaining informed consent for intubation, but in the absence of definitive data it is not clear exactly what this discussion should entail.
Downloads
Download data is not yet available.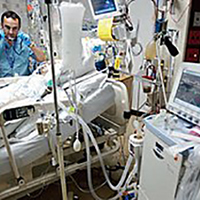 Downloads
Info
Section
COVID-19 - Collection of articles on the Coronavirus outbreak
Keywords:
COVID-19, SARS-CoV-2, critical care, mechanical ventilation, intubation
Statistics
Abstract views:

5850



PDF:

3222
How to Cite
Zareifopoulos, Nicholas, Maria Lagadinou, Anastasia Karela, Gerasimos Karantzogiannis, and Dimitrios Velissaris. 2020. "Intubation and Mechanical Ventilation of Patients With COVID-19: What Should We Tell Them?". Monaldi Archives for Chest Disease 90 (1). https://doi.org/10.4081/monaldi.2020.1296.