Primary seminoma arising in the posterior mediastinum: a diagnostic challenge
Abstract
Primary mediastinal germ cell tumors are a rare finding, and one third of them are seminomas. Seminomas are found in the anterior mediastinum, whereas they are extremely rare within the posterior compartment. Most clinicians would not consider a primary seminoma in the differential diagnosis of a posterior mediastinal mass, as only two cases have been reported in literature. Here we present the case of a 57-year-old male with a primary seminoma arising in the left posterior mediastinum. He was asymptomatic and the mass was an incidental finding. Positron emission tomography (PET) revealed a small area with an avid tracer uptake. Transthoracic needle aspiration led to a non-diagnostic result. Due to the strong suspect of malignancy, a surgical excision was chosen to obtain a diagnosis. He underwent complete excision, and pathology report demonstrated a mediastinal seminoma. Subsequent further staging did not reveal any other location of the disease. Given the complete excision of the primary tumor, active surveillance was the treatment of choice. The patient is free of disease 48 months after diagnosis.
Downloads
Download data is not yet available.
References
Moran CA, Suster S, Przygodzki RM, Koss MN. Primary germ cell tumors of the mediastinum: II. Mediastinal seminomas--a clinicopathologic and immunohistochemical study of 120 cases. Cancer 1997;80:691–8.
Makiyama K, Senga Y. Primary seminoma in the posterior mediastinum. J Urol 2001;165:908.
Ravenel JG, Gordon LL, Block MI, Chaudhary U. Primary posterior mediastinal seminoma. AJR Am J Roentgenol 2004;183:1835–7.
Nichols CR. Mediastinal germ cell tumors. Clinical features and biologic correlates. Chest 1991;99:472–9.
Rosti G, Secondino S, Necchi A, et al. Primary mediastinal germ cell tumors. Semin Oncol 2019;46:107–11.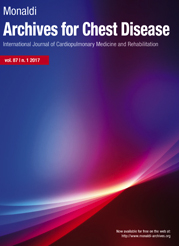 Downloads
Info
Section
Pneumology - Case Reports
Keywords:
mediastinal tumor, germ cell tumor, posterior mediastinum, primary mediastinal seminoma, thoracic surgery, seminoma
Statistics
Abstract views:

63



PDF:

16
How to Cite
Parini, Sara, Paolo Spina, Esther Papalia, Renzo Boldorini, Michele Abruzzese, and Ottavio Rena. 2021. "Primary Seminoma Arising in the Posterior Mediastinum: A Diagnostic Challenge". Monaldi Archives for Chest Disease, October. https://doi.org/10.4081/monaldi.2021.2028.
License
Copyright (c) 2021 The Author(s)
This work is licensed under a Creative Commons Attribution-NonCommercial 4.0 International License.
PAGEPress has chosen to apply the Creative Commons Attribution NonCommercial 4.0 International License (CC BY-NC 4.0) to all manuscripts to be published.