Full medical treatment of COVID-19 associated large pneumothorax - A case report
Abstract
A 52-year-old man was re-admitted two weeks after recovering from severe COVD-19 following a 3-days history of cough and worsening shortness of breath. The chest radiograph showed a large right-sided pneumothorax. The first attempt at drainage, performed through a large bored tube, failed. Due to the large dimension of the pneumothorax, and the lung condition (extensive consolidation and diffuse bullous dystrophies), the only thoracic surgical approach prospected was a pneumonectomy. Willing to preserve the lung, the pulmonology team attempted a multi-phase medical-oriented strategy based on medical thoracoscopy. Therefore, the patient underwent 5 chest tube insertions, 2 talc pleurodesis, and an intrapleural blood patch. Air leakage resolution was progressively achieved, and the patient became asymptomatic.
            We strongly encourage a medical thoracoscopic approach for the patient presenting with recurrent pneumothorax in order to ensure complete lung re-expansion and preserve lung parenchyma.
Downloads
Download data is not yet available.
References
Yasukawa K, Vamadevan A, Rollins R. Bulla formation and tension pneumothorax in a patient with COVID-19. Am J Trop Med Hyg 2020;103:943-4.
Al-Shokri SD, Ahmed AOE, Saleh AO, et al. Case Report: COVID-19-related pneumothorax-case series highlighting a significant complication. Am J Trop Med Hyg 2020;103:1166-9.
McGuinness G, Zhan C, Rosenberg N, et al. Increased incidence of barotrauma in patients with COVID-19 on invasive mechanical ventilation. Radiology 2020;297:E252-62.
Flower L, Carter J-PL, Lopez JR Henry AM. Tension pneumothorax in a patient with COVID-19. BMJ Case Rep 2020;13:e235861.
Nunna K, Braun AB. Development of a large spontaneous pneumothorax after recovery from mild COVID-19 infection. BMJ Case Rep 2021;14:e238863.
Akdogan RE, Mohammed T, Syeda A, et al. Pneumothorax in mechanically ventilated patients with COVID-19 infection. Case Rep Crit Care 2021;2021:6657533.
Quincho-Lopez A, Quincho-Lopez DL, Hurtado-Medina FD. Case Report: Pneumothorax and pneumomediastinum as uncommon complications of COVID-19 pneumonia-Literature review. Am J Trop Med Hyg 2020;103:1170-6.
Hazariwala V, Hadid H, Kirsch D, Big C. Spontaneous pneumomediastinum, pneumopericardium, pneumothorax and subcutaneous emphysema in patients with COVID-19 pneumonia, a case report. J Cardiothorac Surg 2020;15:301.
Miró O, Lorens P, Jiménez S, et al. Frequency, risk factors, clinical characteristics, and outcomes of spontaneous pneumothorax in patients with coronavirus disease 2019: A case-control, emergency medicine-based multicenter study. Chest 2021;159:1241-55.
do Lago VC, Jacon Cezare T, Castelo Branco Fortaleza CM, et al. Does COVID-19 increase the risk for spontaneous pneumothorax? Am J Med Sci 2020;360:735-7.
Liu K, Zeng Y, Xie P, et al. COVID-19 with cystic features on computed tomography: A case report. Medicine (Baltimore) 2020;99:e20175.
Ucpinar BA, Sahin C, Yanc U. Spontaneous pneumothorax and subcutaneous emphysema in COVID-19 patient: Case report. J Infect Public Health 2020;13:887-9.
Guan WJ, Ni ZY, Hu Y, et al. Clinical characteristics of coronavirus disease 2019 in China. N Engl J Med 2020;382:1708-20.
Slade M. Management of pneumothorax and prolonged air leak. Semin Respir Crit Care Med 2014;35:706-14.
Parrish S, Browning RF, Turner JF, Jr, et al. The role for medical thoracoscopy in pneumothorax. J Thorac Dis 2014;6:S383-91.
Aiolfi A, Biraghi T, Montisci A, et al. Management of persistent pneumothorax with thoracoscopy and bleb resection in COVID-19 patients. Ann Thorac Surg 2020;110:e413-5.
Jeon HW, Kim YD, Choi SY, Park JK. When is the optimal timing of the surgical treatment for secondary spontaneous pneumothorax? Thorac Cardiovasc Surg 2017;65:50-5.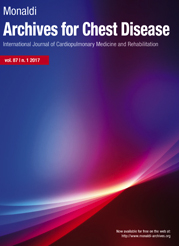 Downloads
Info
Section
Pneumology - Case Reports
Keywords:
pneumothorax, covid-19, sars-cov2, thoracoscopy, pleural, drainage
Statistics
Abstract views:

83



PDF:

42
How to Cite
Fantin, Alberto, Nadia Castaldo, Paolo Vailati, Giuseppe Morana, and Vincenzo Patruno. 2021. "Full Medical Treatment of COVID-19 Associated Large Pneumothorax - A Case Report". Monaldi Archives for Chest Disease, September. https://doi.org/10.4081/monaldi.2021.1956.
License
Copyright (c) 2021 The Author(s)
This work is licensed under a Creative Commons Attribution-NonCommercial 4.0 International License.
PAGEPress has chosen to apply the Creative Commons Attribution NonCommercial 4.0 International License (CC BY-NC 4.0) to all manuscripts to be published.