Large airway complications in COVID-19 pneumonia
Abstract
COVID-19 pneumonia can cause respiratory failure which requires specialist management. However the inflammatory nature of the condition and the interventions necessary to manage these patients such as endotracheal intubation and tracheostomy can lead to large airway pathology which may go unrecognised. We describe five of the 44 (11%) consecutive patients referred to our specialist ARDS team between April and June 2020 with confirmed COVID-19 pneumonia who developed diverse large airway pathology which comprised of: supraglottic oedema, tracheal tear, tracheal granulation tissue formation, bronchomalacia, and tracheal diverticulum. Large airway pathology may be underappreciated in severely ill patients with COVID-19 pneumonia and should be considered in patients with unexplained air leak, prolonged need for mechanical ventilatory support, and repeated failed extubation or decannulation. If suspected, such patients should be managed by a team with expertise in large airway intervention and early specialist advice should be sought.
Downloads
Download data is not yet available.
References
Wiersinga W, Rhodes A, Cheng AC et al. Pathophysiology, transmission, diagnosis, and treatment of Coronarvirus Disease 2019 (COVID 19). A Review. JAMA 2020;324:8. DOI: https://doi.org/10.1001/jama.2020.12839
Anwar A, Ramos-Bascon N, Crerar-Gilbert A, et al. A specialised cardiorespiratory team approach in the intensive care management of COVID-19 patients: benefit on mortality, diagnosis and management. Clin Med (Lond) 2021;21:101-6. DOI: https://doi.org/10.7861/clinmed.2020-0788
Brodsky MB, Levy MJ, Jedlanek E, et al. Laryngeal injury and upper airway symptoms after oral endotracheal intubation with mechanical ventilation during critical care: A systematic review. Crit Care Med 2018;46:2010-7. DOI: https://doi.org/10.1097/CCM.0000000000003368
Chao TN, Harbison SP, Braslow BM, et al. Outcomes after tracheostomy in COVID-19 patients. Ann Surg 2020;272:e181-6. DOI: https://doi.org/10.1097/SLA.0000000000004166
Oliver CM, Campbell M, Dulan O. Appearance and management of COVID-19 laryngo-tracheitis: two case reports. F1000Res 2020;9:310. DOI: https://doi.org/10.12688/f1000research.23204.2
Minambres E, Buron J, Ballesteros MA. Tracheal rupture after endotracheal intubation: a literature systematic review. Eur J Cardiothorac Surg 2009;35;1056-62. DOI: https://doi.org/10.1016/j.ejcts.2009.01.053
Wali A, Rizzo V, Bille A. Pneumomediastinum following intubation in COVID-19 patients: a case series. Anaesthesia 2020;75:1076-81. DOI: https://doi.org/10.1111/anae.15113
Mangel T, Madden BP. Acute tracheal tear – A potential cause of spontaneous pneumomediastinum in patients with COVID-19. Monaldi Arch Chest Dis 2021;91:1852. DOI: https://doi.org/10.4081/monaldi.2021.1852
Madden BP, Datta S, McAnulty GR. Tracheal granulation tissue after percutaneous tracheostomy treated with Nd:Yag laser: three cases. J Laryngol Otol 2001;115:743-4. DOI: https://doi.org/10.1258/0022215011908810
Touman A, Stratakos G. Long-term complications of tracheal intubation. In: R. Hakan Erbay, editor. Tracheal Intubation. IntechOpen; 2018. DOI: https://doi.org/10.5772/intechopen.74160
Bacon J, Patterson C, Madden BP. Indications and interventional options for non-resectable tracheal stenosis. J Thorac Dis 2014;6:258-70. March 2014.
RECOVERY Collaborative Group, Horby P, Lim WS, et al. Dexamethasone in hospitalized patients with Covid-19. N Engl J Med 2021;384:693-704. DOI: https://doi.org/10.1056/NEJMoa2021436
Marty-Ane CH, Picard E, Jonquet O, Mary H. Membraneous tracheal rupture after endotracheal intubation. Ann Thorac Surg 1995;60:1367-71. DOI: https://doi.org/10.1016/0003-4975(95)00643-Y
Ozcan A, Balci C, Aksoy S. Upper airway injury caused by gum elastic bougie. Int J Case Rep Images 2017;8:439-43. DOI: https://doi.org/10.5348/ijcri-201763-CR-10802
Arndt G, Cambray A, Tomasson J. Intubation bougie dissection of tracheal mucosa and intratracheal airway obstruction. Anesth Analg 2008;107:603-4. DOI: https://doi.org/10.1213/ane.0b013e318176fe36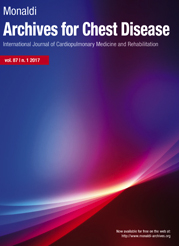 Downloads
Info
Section
COVID-19 - Collection of articles on the Coronavirus outbreak
Keywords:
COVID-19, trachea, bronchi, pathology
Statistics
Abstract views:

1618



PDF:

149
How to Cite
May, James, Nordita Ramos-Bascon, Natalie Barnes, and Brendan Madden. 2021. "Large Airway Complications in COVID-19 Pneumonia". Monaldi Archives for Chest Disease, July. https://doi.org/10.4081/monaldi.2021.1894.
License
Copyright (c) 2021 The Author(s)
This work is licensed under a Creative Commons Attribution-NonCommercial 4.0 International License.
PAGEPress has chosen to apply the Creative Commons Attribution NonCommercial 4.0 International License (CC BY-NC 4.0) to all manuscripts to be published.