Very late stent thrombosis associated with COVID-19 infection: a case report and review of the literature
Abstract
Coronavirus disease 2019 (COVID-19), caused by SARS-CoV-2 has varied manifestation with multisystem involvement. Acute coronary syndrome in COVID-19 as a result of stent thrombosis is an uncommon entity and is often due to hypercoagulable state. A 40-year-old male was referred to us with acute onset chest pain. He also reported fever, sore throat and dry cough for six days which mandated testing for COVID-19 which turned out to be positive. He had a prior history of coronary artery disease with a drug eluting stent implanted two years back. An electrocardiogram was suggestive of acute anterior wall myocardial infarction while echocardiogram revealed hypokinesia of left anterior descending (LAD) artery territory. Coronary angiogram revealed non-occlusive thrombus in proximal LAD stent. A Thrombolysis in Myocardial Infarction (TIMI) III flow was restored following balloon angioplasty with a non-compliant balloon and use of glycoprotein (GP) IIb-IIIa receptor antagonist. A diagnosis of very late stent thrombosis subsequent to COVID-19 was made.
Downloads
Download data is not yet available.
References
Kunal S, Gupta K, Sharma SM, et al. Cardiovascular system and COVID-19: perspectives from a developing country. Monaldi Arch Chest Dis 2020;90:1305.
Claessen BE, Henriques JP, Jaffer FA, et al. Stent thrombosis: a clinical perspective. JACC Cardiovasc Interv 2014;7:1081-92.
Cutlip DE, Nakazawa G, Krucoff MW, et al. Autopsy validation study of the academic research consortium stent thrombosis definition. JACC Cardiovasc Interv 2011;4:554-9.
Wang X, Chen X, Sun W, et al. Very late stent thrombosis in drug-eluting stents new observations and clinical implications. Cardiol Rev 2019;27:279-85.
Wang X, Chen X, Tian T, et al. A scoring system to predict the occurrence of very late stent thrombosis following percutaneous coronary intervention for acute coronary syndrome. Sci Rep 2020;10:6378.
Waksman R, Kirtane AJ, Torguson R, et al. Correlates and outcomes of late and very late drug-eluting stent thrombosis: results from DESERT (International Drug-Eluting Stent Event Registry of Thrombosis). JACC Cardiovasc Interv 2014;7:1093-102.
Del Pace S, Boddi M, Rasoini R, et al. Acute infection-inflammation and coronary stent thrombosis: an observational study. Intern Emerg Med 2010;5:121-6.
Abou-Ismail MY, Diamond A, Kapoor S, et al. The hypercoagulable state in COVID-19: Incidence, pathophysiology, and management. Thromb Res 2020;194:101-15.
Kunal S, Bhatia H, Sharma SK, et al. Pulmonary thromboembolism in COVID-19: initial experience from India. J Clin Diagn Res 2020;14:OD05-OD07.
Choudry FA, Hamshere SM, Rathod KS, et al. High thrombus burden in patients with COVID-19 presenting with ST-elevation myocardial infarction. J Am Coll Cardiol 2020; 6:1168-76.
Antuña P, Rivero F, Del Val D, et al. Late coronary stent thrombosis in a patient with Coronavirus Disease 2019. JAMA Cardiol 2020;5:1195-8.
Hinterseer M, Zens M, Wimmer RJ, et al. Acute myocardial infarction due to coronary stent thrombosis in a symptomatic COVID-19 patient. Clin Res Cardiol 2021;110:302-6.
Galeazzi GL, Loffi M, Di Tano G, Danzi GB. Severe COVID-19 pneumonia and very late stent thrombosis: a trigger or innocent bystander? Korean Circ J 2020;50:632-3.
Prieto-Lobato A, Ramos-Martínez R, Vallejo-Calcerrada N, et al. A case series of stent thrombosis during the COVID-19 pandemic. JACC Case Rep 2020;2:1291-6.
Naderi N, Ansari Ramandi MM, Baay M, et al. Cardiovascular patients in COVID-19 era, a case series, an experience from a tertiary cardiovascular center in Tehran, Iran. Clin Case Rep 2020;8:2436-42.
Lacour T, Semaan C, Genet T, Ivanes F. Insights for increased risk of failed fibrinolytic therapy and stent thrombosis associated with COVID-19 in ST-segment elevation myocardial infarction patients. Catheter Cardiovasc Interv 2021;97:E241-3.
Ayan M, Kovelamudi S, Al-Hawwas M. Subacute stent thrombosis in a patient with COVID-19 pneumonia. Proc (Bayl Univ Med Cent) 2020;34:175-7.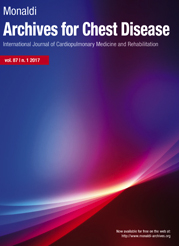 Info
Section
COVID-19 - Collection of articles on the Coronavirus outbreak
Keywords:
Acute coronary syndrome, coronavirus, COVID-19, pneumonia, stent thrombosis
Statistics
Abstract views:

102



PDF:

53

Video 1:

8

Video 2:

6

Video 3:

10

Video 4:

6

Video 5:

11
How to Cite
Kunal, Shekhar, Vijay Pathak, Keshav Pathak, Monika Mishra, Shashi Mohan Sharma, and Sudhir Bhandari. 2021. "Very Late Stent Thrombosis Associated With COVID-19 Infection: A Case Report and Review of the Literature". Monaldi Archives for Chest Disease, September. https://doi.org/10.4081/monaldi.2021.1802.
License
Copyright (c) 2021 The Author(s)
This work is licensed under a Creative Commons Attribution-NonCommercial 4.0 International License.
PAGEPress has chosen to apply the Creative Commons Attribution NonCommercial 4.0 International License (CC BY-NC 4.0) to all manuscripts to be published.