Giant pulmonary hydatid cyst in children
Abstract
Hydatid disease is still endemic in Tunisia. It is mostly seen in young people less than 40 years and children are affected in one third of cases. The lungs are the predominant location in children. Our study aims to define the particularities of children PHC's (pulmonary hydatic cyst) management, the characteristics of giant cyst and to study predictive factors of complications. We included retrospectively 105 children with PHC followed between 1999 and 2019. Patients were aged less than 16 years with surgically confirmed diagnosis of PHC. Two groups of cysts were defined: giant cysts which were 10 cm across or more, and no giant cysts.The sex-ratio was 1,38 with a mean age of 10.5±3 years. The symptomatology was dominated by cough (59%), thoracic pain (51%) and hemoptysis (46%). Giant cysts were observed in 24 (22.9%) patients. Dyspnea (29% vs 5% p<0.001) and thoracic pain (88% vs .41% p<0.001) were significantly more frequently reported in giant cysts. Eighty-six patients had a single cyst (83%) and 19 had multiple cysts (17%). Giant cysts accounted for 22,9% (24 cases). Thoracic ultrasonography was diagnostic in 77.4%. The thoracic CT scan was performed in 27 children with inaccessible cysts in thoracic ultrasonography or in diagnostic doubt.Patients were all treated surgically. Surgical procedures consisted of cystectomy (59%), pericystectomy (18%) and pulmonary resection when parenchyma was destroyed (23%). Parenchymal resection was more often performed in complicated cysts (27% vs 20% p>0.05) and in giant cysts (41% vs 18% p<0.05). A two-stage thoracotomy was performed in the 4 patients with bilateral cysts. Thirteen patients presented immediate post-operative complications which occurred more frequently in complicated and giant cysts. Hospital stay was longer in complicated cysts (16±9 days vs 7±3 days; p<0.001) and in giant cysts (14±9 days vs 11±8 days; p>0.05). In endemic regions, the diagnosis of PHC in children should be based on the combination of thoracic radiography and ultrasonography which are effective, not costly, safe and accessible. Complicated and giant PHC cause lung damage leading to extensive parenchymal resection. They are more associated with post-operative complications prolonging hospital stay and increasing expenses. 
Downloads
Download data is not yet available.
References
Tünger Ö. Epidemiology of cystic echinococcosis in the world. Turk Parazitolojii Derg. 2013;37:47‑52.
Craig PS, McManus DP, Lightowlers MW, et al. Prevention and control of cystic echinococcosis. Lancet Infect Dis 2007;7:385‑94.
Agudelo Higuita NI, Brunetti E, McCloskey C. Cystic echinococcosis. J Clin Microbiol 2016;54:518‑23.
Ramos G, Orduña A, García-Yuste M. Hydatid cyst of the lung: diagnosis and treatment. World J Surg 2001;25:46‑57.
Rawat S, Kumar R, Raja J, et al. Pulmonary hydatid cyst: Review of literature. J Fam Med Prim Care 2019;8:2774‑8.
Halezeroglu S, Celik M, Uysal A, et al. Giant hydatid cysts of the lung. J Thorac Cardiovasc Surg 1997;113:712‑7.
Topçu S, Kurul IC, Taştepe I, et al. Surgical treatment of pulmonary hydatid cysts in children. J Thorac Cardiovasc Surg 2000;120:1097‑101.
Sarkar M, Pathania R, Jhobta A, et al. Cystic pulmonary hydatidosis. Lung India Off Organ Indian Chest Soc 2016;33:179‑91.
Türkyılmaz Z, Sönmez K, Karabulut R, et al. Conservative surgery for treatment of hydatid cysts in children. World J Surg 2004;28:597‑601.
Jerray M, Benzarti M, Garrouche A, et al. Hydatid disease of the lungs. Study of 386 cases. Am Rev Respir Dis 1992;146:185‑9.
Kervancioĝlu R, Bayram M, Elbeyli L. CT findings in pulmonary hydatid disease. Acta Radiol 1999;40:510‑4.
Kuzucu A, Soysal O, Ozgel M, Yologlu S. Complicated hydatid cysts of the lung: clinical and therapeutic issues. Ann Thorac Surg 2004;77:1200‑4.
Ozmen CA, Onat S. Computed tomography (CT) findings of pulmonary hydatid cysts in children and the factors related to cyst rupture. Med Sci Monit Int Med J Exp Clin Re. 2017;23:3679‑86.
Turgut AT, Altinok T, Topçu S, Koşar U. Local complications of hydatid disease involving thoracic cavity: imaging findings. Eur J Radiol 2009;70:49‑56.
Kanat F, Turk E, Aribas OK. Comparison of pulmonary hydatid cysts in children and adults. ANZ J Surg 2004;74:885‑9.
Onal O, Demir OF. The relation between the location and the perforation rate of lung hydatid cysts in children. Asian J Surg 2018;41:422‑6.
Garg MK, Sharma M, Gulati A, et al. Imaging in pulmonary hydatid cysts. World J Radiol 2016;8:581‑7.
Amirian A, Ziaian B, Erfani A, et al. Successful management of a huge pulmonary hydatid cyst with lung-preserving surgery. Case Rep Surg 2020;2020:9526406.
Karaoglanoglu N, Kurkcuoglu IC, Gorguner M, et al. Giant hydatid lung cysts. Eur J Cardiothorac Surg 2001;19:914‑7.
Polat P, Kantarci M, Alper F, et al. Hydatid disease from head to toe. Radiogr Rev Publ Radiol Soc N Am Inc 2003;23:475‑94; quiz 536‑7.
von Sinner W. Advanced medical imaging and treatment of human cystic echinococcosis. Semin Roentgenol 1997;32:276‑90.
Yalcinkaya I, Er M, Ozbay B, Ugras S. Surgical treatment of hydatid cyst of the lung: review of 30 cases. Eur Respir J 1999;13:441‑4.
Aribas OK, Kanat F, Gormus N, Turk E. Pleural complications of hydatid disease. J Thorac Cardiovasc Surg 2002;123:492‑7.
Haller JO, Schneider M, Kassner EG, et al. Sonographic evaluation of the chest in infants and children. AJR Am J Roentgenol 1980;134:1019‑27.
El Fortia M, Bendaoud M, Shaban A, et al. Mother and daughter wall sign in ultrasound identification on non complicated hydatid cysts. New criteria. J Echographie Med Par Ultrasons 1996;17:30‑5.
Şehitoğulları A. Our results in surgical treatment of hydatid cyst of the lungs. Electron J Gen Med 2007;4:5‑8.
Nabi MS, Waseem T. Pulmonary hydatid disease: what is the optimal surgical strategy? Int J Surg Lond Engl 2010;8:612‑6.
Safioleas M, Misiakos EP, Dosios T, et al. Surgical treatment for lung hydatid disease. World J Surg 1999;23:1181‑5.
Aldahmashi M, Alassal M, Kasb I, Elrakhawy H. Conservative surgical management for pulmonary hydatid cyst: Analysis and outcome of 148 cases. Can Respir J 2016;2016:8473070.
Lichter I. Surgery of pulmonary hydatid cyst - the Barrett technique. Thorax 1972;27:529‑34.
Salih OK, Topcuoğlu MS, Celik SK, et al. Surgical treatment of hydatid cysts of the lung: analysis of 405 patients. Can J Surg J Can Chir 1998;41:131‑5.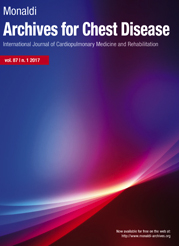 Downloads
Info
Section
Pneumology - Original Articles
Keywords:
Pulmonary hydatic cyst, children, giant cyst
Statistics
Abstract views:

111



PDF:

61
How to Cite
Khalfallah, Ikbel, Sabri Hajjej, Meriem Ferchichi, Abir Boussetta, Meriam Affes, Sabrine Louhaichi, Besma Hamdi, Jamel Ammar, and Agnès Hamzaoui. 2021. "Giant Pulmonary Hydatid Cyst in Children". Monaldi Archives for Chest Disease, September. https://doi.org/10.4081/monaldi.2021.1770.
License
Copyright (c) 2021 The Author(s)
This work is licensed under a Creative Commons Attribution-NonCommercial 4.0 International License.
PAGEPress has chosen to apply the Creative Commons Attribution NonCommercial 4.0 International License (CC BY-NC 4.0) to all manuscripts to be published.