Diagnostic utility of 68Ga-citrate and 18FDG PET/CT in sarcoidosis patients
Abstract
Sarcoidosis is a chronic granulomatous disease of unknown etiology. The disease  most commonly involves the lungs and the mediastinal lymph nodes while extrapulmonary organs such as the skin, eye, liver or spleen may also be comprised. Many imaging modalities have been used for the clinical evaluation of sarcoidosis patients but all have been found to have certain drawbacks for a reliable identification assessment due to the equivocal diagnostic results.  This case series was designed to determine the clinical trenchancy of simultaneous 68Ga citrate PET/CT [Positron emission tomography with 68Ga citrate (68Ga citrate PET/CT)] and 18F-FDG PET/CT [Positron emission tomography with 2-deoxy-2-[fluorine-18] fluoro-D-glucose integrated with computed tomography (18F-FDG PET/CT)] imaging in sarcoidosis patients. The main goal of the study was to evaluate sarcoidosis with respect to disease activity and organ involvement. A total of eight sarcoidosis patients with a comorbid disease suspicion were included in the study. Conventional clinical parameters used for  the diagnosis and the activity of sarcoidosis including CT [Computed tomography (CT)] were compared with the 68Ga-citrate PET/CT findings. Concurrent 18F-FDG PET/CT was performed to verify the granulomatous inflammation of sarcoidosis and to determine coexisting malignant or other inflammatory diseases. Our study results revealed that 68Ga citrate PET/CT imaging appears to be highly useful for the diagnosis, activity assessment and extrapulmonary organ involvement in sarcoidosis. Another crucial finding was the detection of extrapulmonary organ disease that are exceptionally involved, almost inaccessible by biopsy and that could not be otherwise displayed by other conventional imaging modalities. The third hallmark was the identification of a clinically asymptomatic and occult malignancy accompanying sarcoidosis that would not be revealed in any way if synchronous 18FDG PET/CT had not been performed. Simultaneous application of 68Ga citrate and 18FDG PET/CT may provide extremely useful data for the clinical evaluation of sarcoidosis patients in terms of the primary disease diagnosis, activity state, extrapulmonary organ involvement unachievable for biopsy and the clinically occult malignant disorders.
Downloads
Download data is not yet available.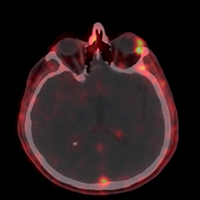 Downloads
Info
Section
Pneumology - Original Articles
Keywords:
Sarcoidosis, 18F-FDG PET/CT, 68Ga-citrate PET/CT, malignancy
Statistics
Abstract views:

356



PDF:

147
How to Cite
Tetikkurt, Cuneyt, Halil Yanardag, Burcak Haluk Sayman, Muammer Bilir, Seza Tetikkurt, Seckin Bilgic, Bahar Kubat, and Seyda Bilgin. 2020. "Diagnostic Utility of 68Ga-Citrate and 18FDG PET/CT in Sarcoidosis Patients". Monaldi Archives for Chest Disease 90 (4). https://doi.org/10.4081/monaldi.2020.1509.