Gender differences in treatment of Coronavirus Disease-2019
Abstract
Coronavirus Disease-2019 (COVID-19) is the worst worldwide pandemic with more than 12,000,000 cases and 560,000 deaths until 14th July 2020. Men were more infected by COVID-19 than women, and male subjects with underlying conditions, including diabetes, hypertension, and cardiovascular diseases developed a severe form of the affection, with increased mortality rate. Many factors can contribute to the disparity in disease outcomes, such as hormone-specific reaction and activity of X-linked genes, which modulate the innate and adaptive immune response to virus infection. Until now, only the Remdesivir was approved by FDA (Food Drug Administration) for COVID-19 treatment, although several clinical trials are ongoing worldwide also on other drugs. In this review, we analyzed published studies on several drugs (chloroquine or hydroxychloroquine, remdesivir, favipiravir, lopinavir-ritonavir in combination, tocilizumab, plasma, and immunoglobulins) with some efficacy to COVID-19 in humans, and evaluated if there were a gender analysis of the available data. In our opinion, it is essential to report data about COVID-19 disaggregated by sex, age, and race, because the knowledge of gender differences is fundamental to identify effective and customized treatments to reduce hospitalizations, admissions to intensive care units, and mortality.
Downloads
Download data is not yet available.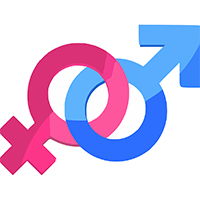 Downloads
Info
Section
COVID-19 - Collection of articles on the Coronavirus outbreak
Keywords:
Gender, differences, treatment, COVID-19
Statistics
Abstract views:

768



PDF:

522
How to Cite
Ambrosino, Immacolata, Elena Barbagelata, Graziamaria Corbi, Tiziana Ciarambino, Cecilia Politi, and Anna Maria Moretti. 2020. "Gender Differences in Treatment of Coronavirus Disease-2019". Monaldi Archives for Chest Disease 90 (4). https://doi.org/10.4081/monaldi.2020.1508.