The role of echocardiography in SARS-CoV-2 pandemic: a compromise among appropriateness, safety and clinical impact
Mario Pacileo | pacmario@yahoo.it

Division of Cardiology, Hospital Umberto I, Nocera Inferiore (SA), Italy.

https://orcid.org/0000-0002-6330-1738

Francesco Giallauria

Department of Translational Medical Sciences, Federico II University of Naples, Italy.

https://orcid.org/0000-0003-4119-9397

Cristina Savarese

Division of Cardiology, Hospital Umberto I, Nocera Inferiore (SA), Italy.

Teresa Cirillo

Division of Cardiology, Hospital Umberto I, Nocera Inferiore (SA), Italy.

Fabio Crescibene

Division of Cardiology, COVID Hospital M. Scarlato, Scafati (SA), Italy.

Anna Di Lorenzo

Department of Translational Medical Sciences, Federico II University of Naples, Italy.

Mariacarla Ferrillo

Division of Cardiology, Hospital Umberto I, Nocera Inferiore (SA), Italy.

Maria Grazia Calabrese

Division of Cardiology, Hospital Umberto I, Nocera Inferiore (SA), Italy.

Carlo Vigorito

Department of Translational Medical Sciences, Federico II University of Naples, Italy.

Antonello D'Andrea

Division of Cardiology, Hospital Umberto I, Nocera Inferiore (SA); Division of Cardiology, University of Campania L. Vanvitelli, Naples, Italy.

https://orcid.org/0000-0002-9698-9145
Abstract
SARS-CoV-2 infection, responsible for COVID-19, can determine cardiac events, which require a quick diagnosis and management, and should not be overlooked due to the presence of COVID-19 infection. In some cases, cardiovascular symptoms can also be the first and only manifestation of SARS-CoV-2 infection. In patients with COVID-19, the full cardiovascular disease diagnostic algorithm can be hindered by logistic restrain mainly derived from the difficulty of transporting patients in critical conditions to Radiology or Hemodynamics wards. The echocardiography in SARS-CoV-2 pandemic can help for differential diagnosis of cardiac events, which can be related or unrelated by the infection and can likely impact on short-term prognosis. Indeed, transthoracic echocardiography plays a key role in the screen for CV complications of COVID-19 infection: it must be focused cardiac ultrasound study (FoCUS) performed at bedside. All transthoracic, transesophageal and stress echocardiograms in patients in which test results are unlikely to change the management strategy should be postponed.
Downloads
Download data is not yet available.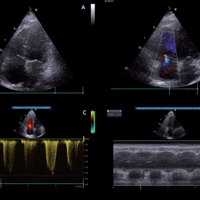 Info
Section
COVID-19 - Collection of articles on the Coronavirus outbreak
Keywords:
COVID-19, echocardiography, transesophageal echocardiography, ARDS, PPE
Statistics
Abstract views:

599



PDF:

421
How to Cite
Pacileo, M., Giallauria, F., Savarese, C., Cirillo, T., Crescibene, F., Di Lorenzo, A., Ferrillo, M., Calabrese, M. G., Vigorito, C., & D'Andrea, A. (2020). The role of echocardiography in SARS-CoV-2 pandemic: a compromise among appropriateness, safety and clinical impact. Monaldi Archives for Chest Disease, 90(2). https://doi.org/10.4081/monaldi.2020.1358
Copyright (c) 2020 The Author(s)
This work is licensed under a Creative Commons Attribution-NonCommercial 4.0 International License.