COVID-19 in intensive care. Some necessary steps for health care workers
Abstract
Due to the nature of their profession, health care personnel (HCP) have always been easy targets for transmission of communicable diseases like COVID-19. Shielding HCPs is of consequential significance in ensuring continued health care for the whole population in addition to reducing further spread. Close contact, repeated contact and prolonged contact are unavoidable in the intensive care (IC) environment. It is not uncommon for IC-HCPs to get carried away during an emergent situation, such as that posed by a suddenly deteriorating patient, and forgo the protective barriers that protect them from contracting a communicable infection. Some notable precautionary measures are mentioned below. This is by no means an exhaustive list.
Downloads
Download data is not yet available.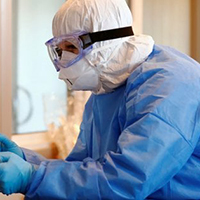 Downloads
Info
Section
COVID-19 - Collection of articles on the Coronavirus outbreak
Keywords:
Coronavirus, ICU, protection
Statistics
Abstract views:

4487



PDF:

3240
How to Cite
Malhotra, Nipun, Nitesh Gupta, Somya Ish, and Pranav Ish. 2020. "COVID-19 in Intensive Care. Some Necessary Steps for Health Care Workers". Monaldi Archives for Chest Disease 90 (1). https://doi.org/10.4081/monaldi.2020.1284.